CBSE 11th & 12th Syllabus 2022-23: CBSE Academic Syllabus Released (Official)
The Central Board of Secondary Education (CBSE) has decided to conduct the examination again as before from the 2022-23 academic year. For this, new syllabus for class 9, 10, 11 and 12 has also been announced today. Under which the syllabus of class 10 and class 12 is not divided into two parts. It is believed that from next year instead of two terms, the examinations will be conducted only once at the end of the session. Although officially the board has not said this yet. Students can download the syllabus of various classes from the official website of the board on cbseacademic.nic.in.
CBSE officials had confirmed earlier this month that the board would conduct the exams once a year from the next academic year for session 2022-23. The board conducted the exams in two terms due to the COVID-19 pandemic. Under which Term 1 exam 2022 was held in November-December, 2021 and Term 2 exam is scheduled for April-May, 2022, but it is not permanent. Like before next year, there will be only final exams.
Also Read: CBSE Class 9th and 10th Syllabus For Session 2022-23
CBSE Board has released the new curriculum for the Classes from 11th to 12th for session 2022-23 on their official website. The board has released new circular in which it has clearly stated that "Considering the feedback of stakeholders and other prevailing conditions, the Board will conduct the annual scheme of assessment at the end of the Academic Session 2022-23 and the curriculum has been designed accordingly ". All of You can download the subject wise syllabus from the link given below.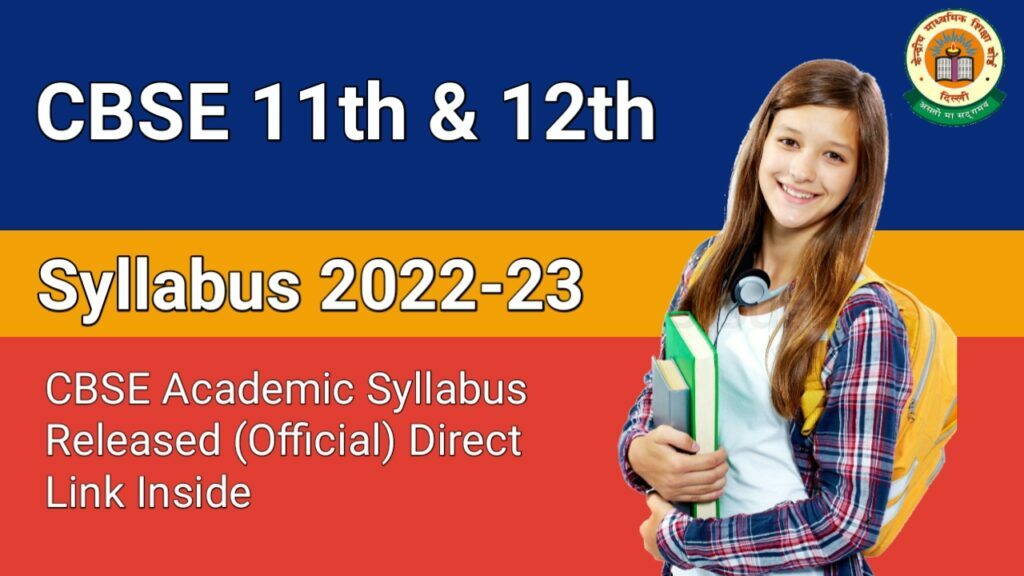 Direct Link To Download All Subject Syllabus From Official Website
CBSE Syllabus 2022-23 Deleted | Class 10 CBSE Syllabus 2022-23 Science | CBSE syllabus 2022-23 class 12 chemistry | CBSE syllabus 2022-23 class 9 | CBSE syllabus 2022 23 Reduced | cbse syllabus 2022 23 class 10 Hindi | CBSE syllabus 2022-23 chemistry | CBSE Syllabus 2022-23 Physics
Given Below Are The CBSE Class 11th and 12th Subject Name With Their Respective Download Links Containing Syllabus For Session 2022-23.
Main Subject
Languages Subject
Key Points Of CBSE Syllabus For Session 2022-23
* Class 10 Syllabus 2022-23 PDF
* CBSE New Syllabus 2022-23 Class 12
* CBSE New Syllabus 2022 23 Class 9
* Deleted Syllabus Of Class 10 CBSE 2022-23
* CBSEacademic nic in class 10 syllabus 2022-23
* CBSE Academic Syllabus 2022-23