In this article I have provided CBSE Class 10 Hindi Chapter and Topic-Wise Deleted Syllabus 2022-23. This post is very important for those student who are preparing for their CBSE Class 10 Hindi Examination.
All CBSE Class 10th students who are appearing in the CBSE Class 10 Board Exam 2023 must be aware of the excluded chapters and topics in Hindi subject. In the CBSE Class 10 Hindi Syllabus 2022-2023, the CBSE board has made a deletion syllabus of nearly about 30% part of the full syllabus 2022-23.
There are Certain chapters and topics in CBSE Class 10 Hindi subject which have been removed from the NCERT Syllabus 2022-23 to release burden and ease out exam preparations for CBSE Class 10 Hindi Students.
All students can Check below the list of CBSE Class 10 Hindi chapters and topics that will not be assessed in the CBSE Class 10 Hindi Board Exam 2023. Also all of you can check the link to download the reduced CBSE Class 10 Hindi Syllabus 2022-23, so as to prepare only the prescribed content for the CBSE Board Exam 2023.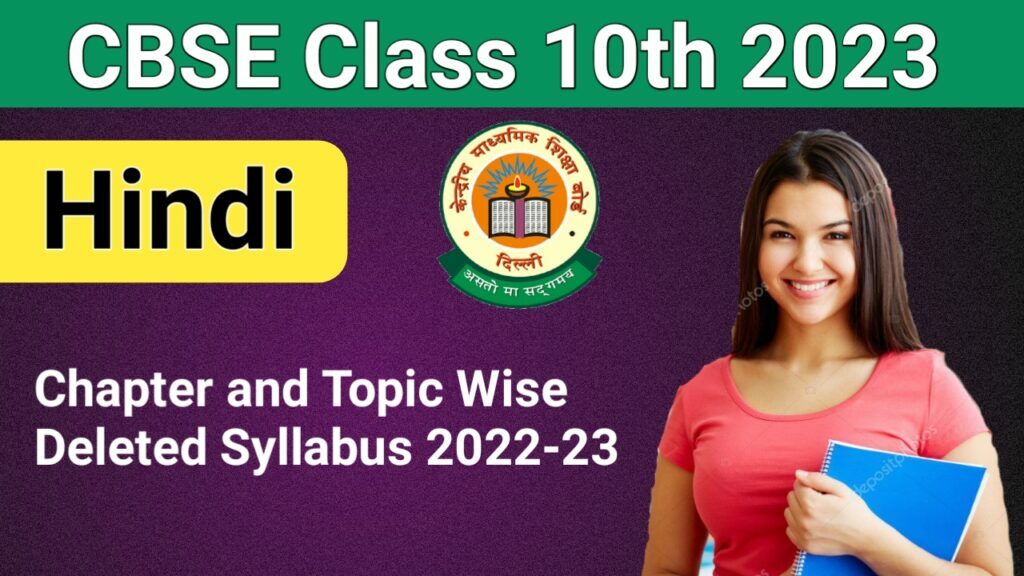 How To Download CBSE Class 10 Hindi Sample Papers
* First of all you have to open CBSE official website.
* A link will be shows a list of sample question papers for classes 10th and 12th for the session 2022-23.
* Open your class and select your Subject Hindi.
* When you will open the link, you can download CBSE Class 10 Hindi sample question papers for all Subjects on your screen.
CBSE Sample Paper Class 10 Hindi Model Paper 2023
* CBSE Model Papers for Class 10th Hindi be very helpful for all students to analyse past years question papers for the exam 2023.
* Previous exam papers can be download and used as a reference for the final board examination 2023 by students.
* The Better way to achieve a good grade is to repeatedly practice the repeated questions from the CBSE Class 10 Hindi model question papers for session 2022-23.
* Open the official website for Class 10th exam 2023 to solve papers and question pattern for good score in CBSE Class 10 Hindi Board exams 2022-23.
* The Central Board of secondary Education class 10th exam also add in the development of the student career path.
* There should be more active preparation for all CBSE board student for the final examination.
For More Study Materials Visit At Maths and Physics With Pandey Sir website.
Arihant All In One Science CBSE Class 10 PDF Free Download
NCERT Class 10 Maths Book With Solution Links
NCERT Class 10 Maths Book PDF Free Download
NCERT Class 10 Maths Book Solution PDF Free Download
NCERT Class 10 Subject-Wise Best Study Materials
NCERT Class 10 Previous Year Solved Papers
Modern's ABC Plus Of Science Physics, Chemistry and Biology Book PDF Links
Modern's ABC Plus Of Science Physics Book PDF Free Download
Modern's ABC Plus Of Science Chemistry Book PDF Free Download
Modern's ABC Plus Of Science Biology Book PDF Free Download
CBSE Class 10 Hindi A Syllabus 2022-23
CBSE Class 10 Hindi B Syllabus 2022-23
The Deleted Syllabus For CBSE Class 10 Hindi A For Session 2022-23
The Deleted Syllabus For CBSE Class 10 Hindi B For Session 2022-23