In this post I have provided CBSE Class 10 Maths Deleted Portion 2022-23. This deleted portion is very important for those student who are preparing for their board examination 2022-23. If any student have any doubt regarding deleted syllabus then they can never prepare their Maths syllabus according to examination. That is why, here I am providing CBSE Class 10 deleted syllabus. With the help of this syllabus all student can prepare their board examination according to NCERT norms.
CBSE Deleted Syllabus For Class 10 Maths 2022-23
CBSE Class 10 Maths Syllabus has been revised for session 2022-23 and reduced by 30% for the annual assessment to be conducted the final examination. In this article I have provided a list of the chapter-wise, topics-wise, exercise-wise and also example-wise Questions that are not included in the new CBSE Class 10 Maths Syllabus for session 2022-2023.
All the class 10 maths students must check the details of the deleted chapters/topics/example/exercise, so as to avoid reading irrelevant content for board examination. All students need Prepare for your CBSE Class 10 Maths Board Exam 2022-23 according to the reduced CBSE Class 10 Maths Syllabus.
YouTube Link For CBSE Class 10 Maths Deleted Syllabus 2022-23
Given Below Are The CBSE Class 10 Maths Deleted Portion For Session 2022-23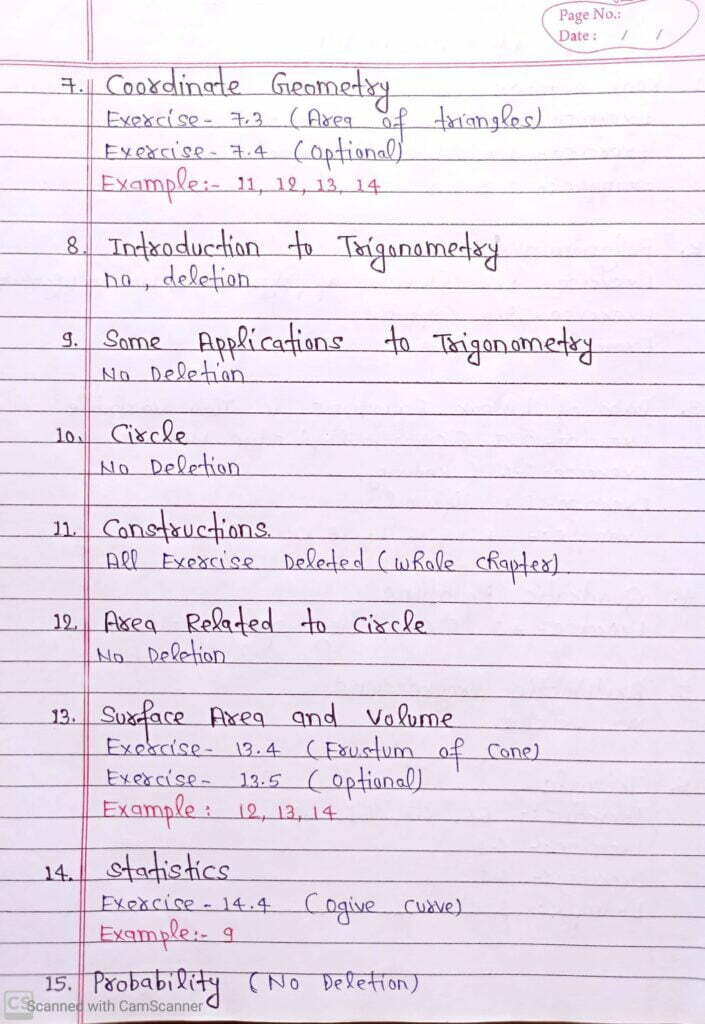 NCERT Class 10 Maths Book With Solution Links
NCERT Class 10 Maths Book PDF Free Download
NCERT Class 10 Maths Book Solution PDF Free Download
Modern's ABC Plus Of Science Physics, Chemistry and Biology Book PDF Links
Modern's ABC Plus Of Science Physics Book PDF Free Download
Modern's ABC Plus Of Science Chemistry Book PDF Free Download