Download CBSE Class 10 Maths Important Questions In PDF
In this post I have provided Important Questions For CBSE Class 10 Maths in PDF form. It is very important to know chapterwise important questions for any competitive examination or board examination. Which the help of these important questions and concepts you can better score in board exam.
In this post, we have included such types of questions, the type of questions are often asked in board exams, questions of important concepts are repeated again and again in board exams, only those types of questions have been given in this post.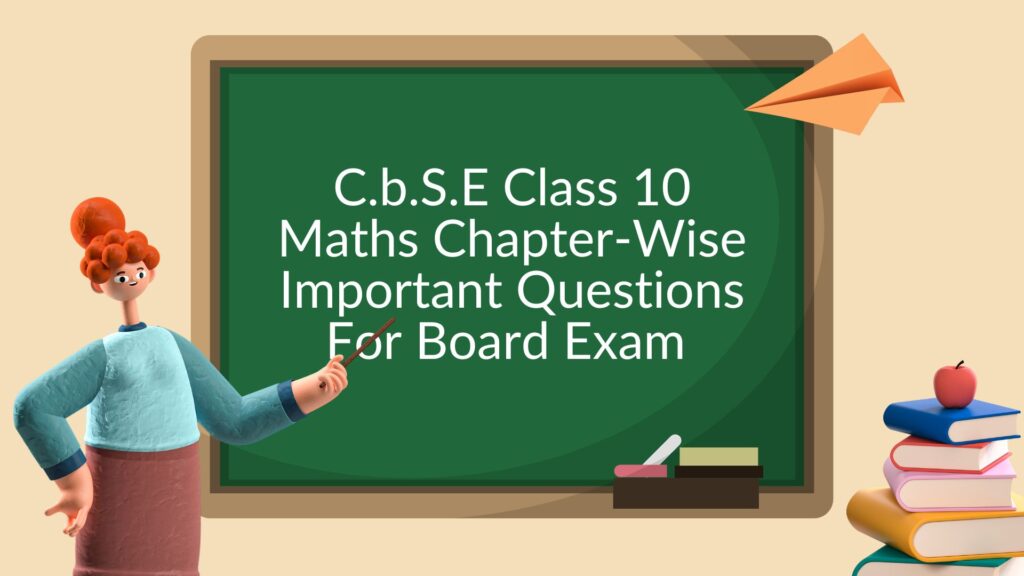 Impotant Questions For Class 10 Maths Chapter-Wise
Important Questions For Class 10 Maths Chapter-Wise
In CBSE Class 10th Maths, there are some such concept questions which are repeated every year in the board exam. All these questions are very important and are often asked. Such questions have been included in this post which is very useful for you. It is very important to solve such questions while preparing for board exams.
The special thing about this post is that the chapter wise questions related to all the important concepts of CBSE Class 10th Maths are given in this post and all these questions are with solutions which will help you in every way in your board exam preparation.
CBSE Class 10 Maths Important Questions – Free PDF Download
This post contains the most repeated concepts and important questions for Class 10 Maths with solution and are available in downloadable PDF format absolutely free of cost.
There is a 50% chance that some questions may be repeated in this year. But you will come to know about it when you appear in the coming board exam. So I would suggest you practice well and give your best in your CBSE board examination.
For many important books and best study materials for Board Exams you can visit at Maths and Physics With Pandey Sir website.
Download CBSE Class 10 Maths Chapter-Wise Important Questions With Solution By Clicking On Respective Download Links.
Cbse class 10 maths Important questions for board exam
NCERT Class 10 Maths Book With Solution Links
Modern's ABC Plus Of Science Physics, Chemistry and Biology Book PDF Links