In this post I have provided CBSE Class 12 Chemistry 10 years previous year question papers with solutions. Previous year class 12 chemistry question with solution is very important for the preparation of CBSE Class 12 board examination 2023.
This article contains CBSE Class 12 Chemistry Chapter-Wise Previous Year Question Papers With Solution. Any student who are preparing for CBSE Class 12 Chemistry Board examination 2023, then they have to practice these types of questions.
CBSE Class 12th Chemistry students, if they solve the last 10 years question paper, will get an idea of what type of questions are asked in the board exam and what type of question they should prepare for, what is the difficulty level of the board exam, they will know too.
Also Read
After solving last 10 years question papers CBSE Class XII Chemistry students will get to know that how difficult are the questions asked in board exams and how to solve these type of questions as well as students should prepare well in board exams. It also comes to know how to do time management in board examination 2023.
In this way, you must see the question paper of the last 10 years given in this article and solve them and also see how much time you are taking to solve all those attempts, by doing this your time management will be good and you will be able to get good marks in comming board examination 2023.
If you are preparing for their board examination 2023 and need best study material for the preparation of board examination 2023, then you can visit at Maths And Physics With Pandey Sir website for best study materials and previous year question paper along with sample papers.
Must Read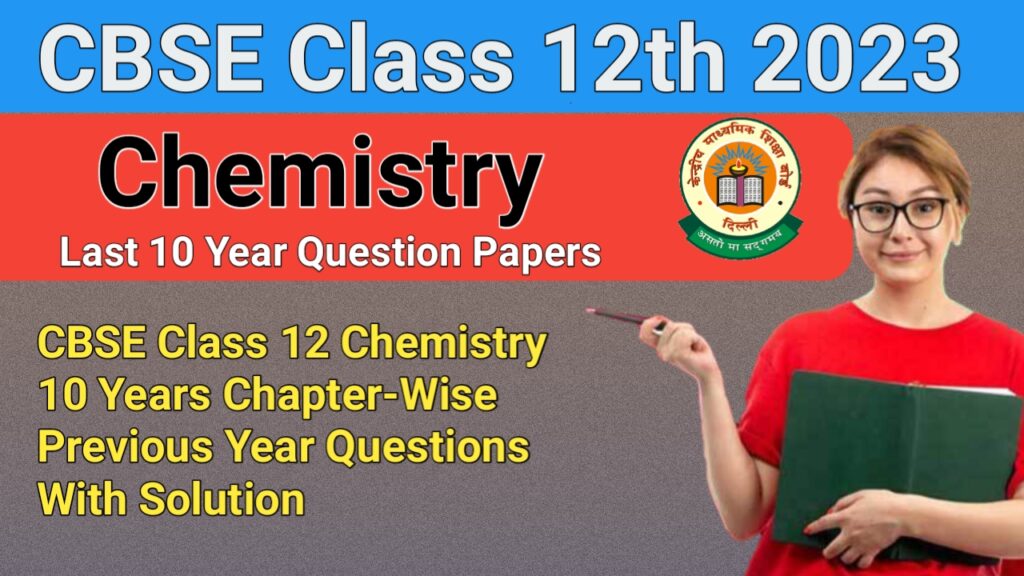 Given Below Are CBSE Class 12 Chemistry Last 10 Years Question Papers Along With Solution With Their Respective Download Links Containing Study Materials.
CBSE Class 12 Chemistry 10 Years Chapter-Wise Previous Year Questions With Solution
FAQ
Question: Does CBSE repeat questions class 12 chemistry?
Answer: Yes, CBSE sometimes repeat previous year questions from class 12 chemistry.
Question: Is CBSE 12 chemistry paper easy?
Answer: CBSE Class 12 Chemistry paper is not very easy, but if you prepare well then you can score good marks.
Question: How can I get full marks in chemistry 12?
Answer: If you want to score full marks in CBSE Class 12 Chemistry, then you have to study from important books other than NCERT, study last few years' question papers and solve different types of sample papers.
Question: Does CBSE repeat previous year questions?
Answer: Yes, CBSE sometimes repeat previous year question.