This post delivered CBSE Class 12 Maths Deleted Syllabus 2022-23. This deleted portion is very important for those student who are preparing for their Class 12 board examination 2022-23. If any student have any doubt regarding Class 12 Maths deleted syllabus, then they can never prepare their Maths syllabus according to CBSE. So, here I am providing CBSE Class 12 Maths deleted syllabus 2022-23. With the help of this syllabus CBSE Board students can prepare their board examination according to NCERT Syllabus 2022-23.
CBSE Deleted Syllabus For Class 12 Maths 2022-23
CBSE Class 12 Maths Syllabus has been revised for session 2022-23 and reduced by nearly 30% for the annual assessment to be conducted the final examination 2023. In this article I have provided chapter-wise, topics-wise, exercise-wise and also example-wise Questions that are not included in the new CBSE Class 12 Maths Syllabus for session 2022-2023.
All the CBSE Class 12 Maths students must check the details of the deleted chapters/topics/example/exercise, so as to avoid reading irrelevant content for board examination 2023. All students need Prepare for your CBSE Class 12 Maths Board Exam 2022-23 according to the reduced CBSE Class 12 Maths Syllabus.
If you are CBSE Board student, any other Board student or Preparing their Competitive examinations like JEE, NEET, NTSE etc, Then At Maths and Physics With Pandey Sir you can find relevant contents.
YouTube Video Link For CBSE Class 12 Maths Deleted Syllabus 2022-23
Given Below Are The CBSE Class 12 Maths Deleted Syllabus For Session 2022-23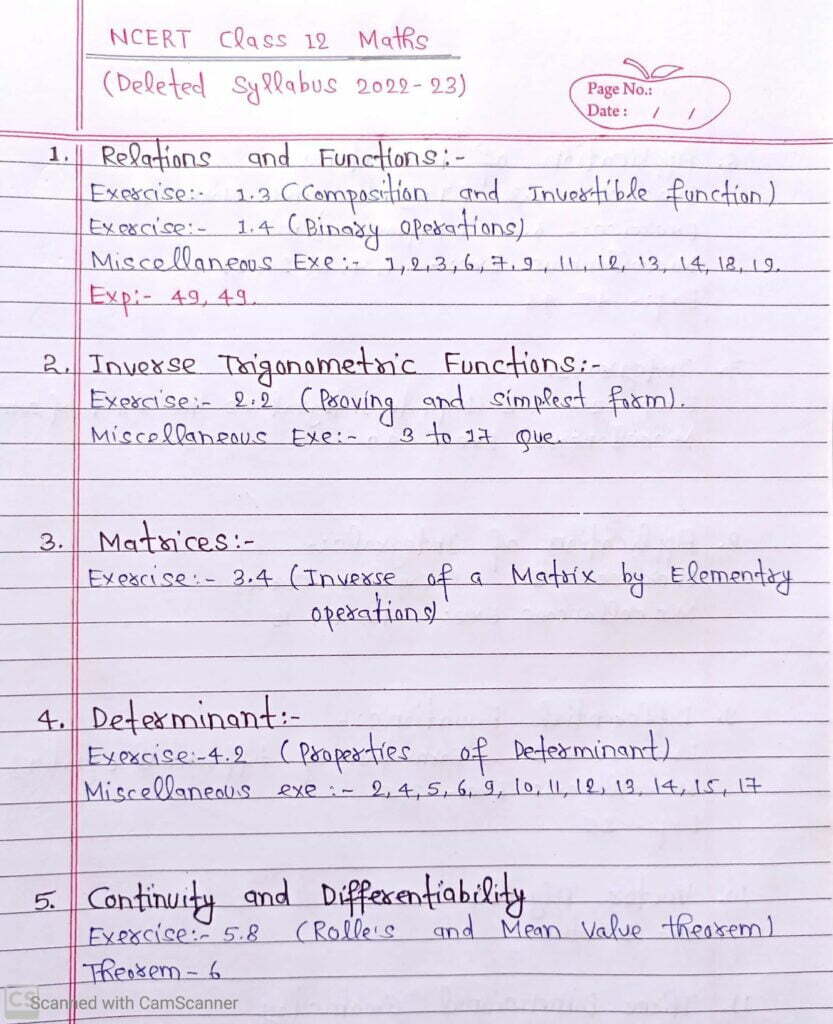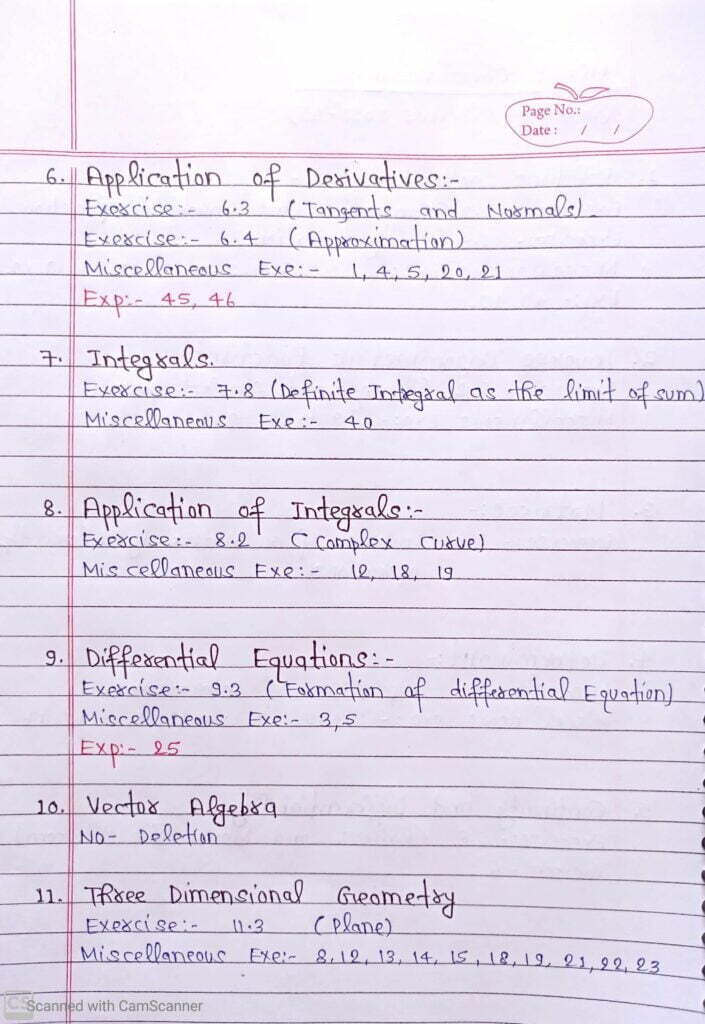 NCERT Class 12 Physics Chapter-Wise Notes
NCERT Class 12 Physics Chapter-1 (Electric Charges And Fields) Note
NCERT Class 12 Physics Chapter-2 (Electrostatic Potential And Capacitance) Note
NCERT Class 12 Physics Chapter-3 (Current Electricity) Note
NCERT Class 12 Physics Chapter-4 (Moving Charges And Magnetism) Notes
NCERT Class 12 Physics Chapter-5 (Magnetism and Matter) Notes
NCERT Class 12 Physics Chapter-6 (Electromagnetic Induction) Notes
NCERT Class 12 Physics Chapter-7 (Alternating Current) Notes
NCERT Class 12 Physics Chapter-8 (Electromagnetic Waves) Notes
NCERT Class 12 Physics Chapter-9 (Ray Optics and Optical Instruments) Notes
NCERT Class 12 Physics Chapter-10 (Wave Optics) Notes
NCERT Class 12 Physics Chapter-11 (Dual Nature of Radiation) Notes
NCERT Class 12 Physics Chapter-12 (Atoms) Notes
NCERT Class 12 Physics Chapter-13 (Nuclei) Notes
NCERT Class 12 Physics Chapter-14 (Semiconductor and Electronic Devices) Notes
Also Read
NCERT Class 12 Physics Book PDF Free Download
SL Arora Class 12 Physics Book PDF Free Download