CBSE Term 2 Date Sheet 2022 For Class 10 and 12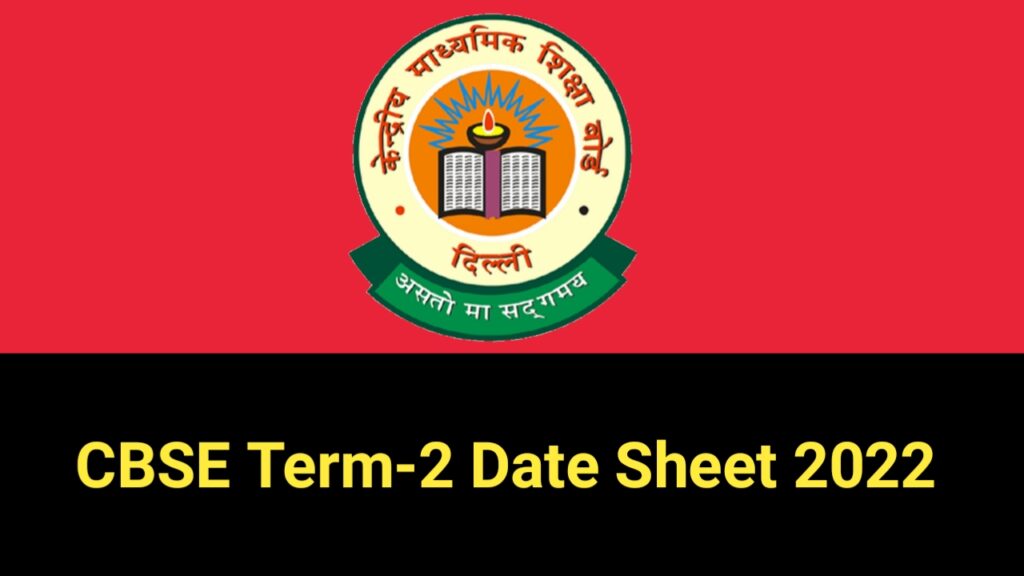 In This Post I Have Provided CBSE Class 10 and 12 Board Exams Date Sheet. As we know CBSE Class 12 Exams Term 2 would begin from 26 April 2022. Now the CBSE Board has released the CBSE Date Sheet for board exam 2022 on the official website cbse.nic.in.
Now all students need begin to prepare for each exam by student. They are to appear in by following the CBSE Syllabus along with the CBSE Date Sheet for 2022 that has been shared Class wise as below.
CBSE Term 2 Date Sheet 2022 Released
Download CBSE Class 10 Datesheet Official
Download CBSE Class 12 Datesheet Official
CBSE Class 10 Time Table Board Exams 2022
CBSE Class 12 Time Table Board Exams 2022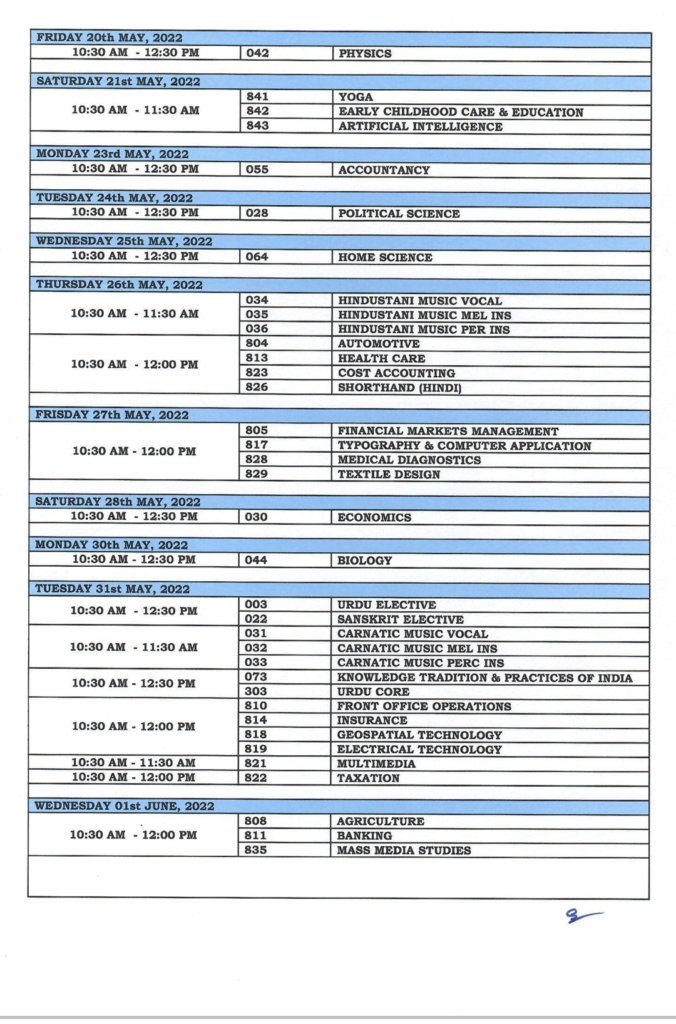 Given Below Are The Class-Wise CBSE Date Sheet
Class 10 Date sheet 2022 CBSE Board Term 2
| | |
| --- | --- |
| Examination Date | CBSE Subjects Name |
| 26-April 2022 | Painting, Rai, Gurung, Tamang, Sherpa, Thai |
| 27-April 2022 | English Language and English Literature |
| 28-April 2022 | Retailing, Security, Automotive, Intro. to fin markets, Intro. to tourism, beauty and wellness, agiculture, food production, banking insurance, marketing and sales, healthg care, apparel, multimedia, multi skill foundation course, AI, Physical activity trainer |
| 2-May 2022 | Home Science |
| 4-May 2022 | Hindustani music (Mel Ins), Hindustani music (Per Ins), Elements of book keeping and accountancy |
| 5-May 2022 | Mathematics Standard and Mathematics Basic |
| 6-May 2022 | Sindhi, Malayalam, Odia, Assamese, Kannada |
| 7-May 2022 | Sanskrit |
| 10-May 2022 | Science |
| 12-May 2022 | Urdu Course A, Punjabi, Bengali, Tamil, Telugu, Marathi, Gujarati, Manipuri, Urdu Course-B |
| 13-May 2022 | Elem. of buisiness |
| 14-May 2022 | Social Science |
| 17-May 2022 | Hindustani Music (Vocal), NCD, Telugu-Telangana, Bodo, Tangkhul, Japanese, Bhutia, Spanish, Kashmiri, Mizo, Bahasa Melayu |
| 18-May 2022 | Hindi Course A and Course B |
| 21-May 2022 | Arabic, Lepcha, Tibetian, French, German, Russian, Persian, Nepali, Limbu, Carnatic music vocal, Carnatic music(MEL INS), Carnatic music (Perins, MEL INS) |
| 23-May 2022 | Computer Applications |
| 24-May 2022 | IT |
CBSE Term 2 Date Sheet 2022
Class 12 Date sheet 2022 CBSE Board Term 2
| | |
| --- | --- |
| Examinations Date | CBSE Subjects Name |
| 26 April 2022 | Entrepreneurship, Beauty & Wellness |
| 28 April 2022 | Biotechnology, Engineering Graphics, Retail, Electronic Technology, Food Nutrition & Dietics |
| 2 May 2022 | Hindi Elective, Hindi Core |
| 4 May 2022 | Kathak, Bharatanatyam, Kuchpudi, Odissi, Manipuri, Web Applications, Horticulture |
| 6 May 2022 | Sociology |
| 7 May 2022 | Chemistry |
| 10 May 2022 | Food Production, Office Procedures and Practices, Design |
| 11 May 2022 | Punjabi, Bengali, Tamil, Telugu, French, German and other languages |
| 12 May 2022 | Marketing |
| 13 May 2022 | English Elective, English Core |
| 17 May 2022 | Business Studies, Business Administration |
| 18 May 2022 | Geography |
| 19 May 2022 | Fashion Studies |
| 20 May 2022 | Physics |
| 21 May 2022 | Yoga, Early Childhood Care, Artificial Intelligence |
| 23 May 2022 | Accountancy |
| 24 May 2022 | Political Science |
| 25 May 2022 | Home Science |
| 26 May 2022 | Hindustani Vocal, Hindustani Music (ALL), Automotive, Cost Accounting, Shorthand |
| 27 May 2022 | Financial Market Management, typography, Medical Diagnostics, Textile Design |
| 28 May 2022 | Economics |
| 30 May 2022 | Biology |
| 31 May 2022 | Urdu Elective, Sanskrit Elective, Carnatic Music (All), Urdu Core, Front Office Operations, Knowledge Tradition and Practices, Insurance, Geospatial Technology, Electrical Technology, |
| 1 June 2022 | Agriculture, Banking, Mass Media studies |
| 2 June 2022 | Physical Education |
| 4 June 2022 | NCC, IT, Shorthand (english) |
| 6 June 2022 | Painting, Graphics, Sculpture and Commercial Art |
| 7 June 2022 | Mathematics and Applied Mathematics |
| 9 June 2022 | Tourism, Air Conditioning & Refrigeration, and Salesmanship |
| 10 June 2022 | History |
| 13 June 2022 | Information Practices, Computer Science |
| 14 June 2022 | Legal Studies and Sanskrit Core |
| 15 June 2022 | Psychology |