In this post I have provided CBSE Fundamentals Of Social Science For Class 10 PDF Free Download. This Book is very important for those students who are preparing for their class 10 Board Exams. The Explanation of this book is very simple and understandable for all students.
Download Fundamentals Of Social Science For Class 10 PDF
NCERT Fundamentals Of Social Science For Class 10 PDF is available here in PDF. Some Students mostly get confused on how elaborately they should write their answers in Board Exams, to get good marks in board exams this book is very helpful. Therefore these Social Science Book For Class 10 contain the chapter wise answers of History, Geography, Political Science and Economics subjects according to Board Exams pattern.
After Going through the Fundamentals Of Social Science For Class 10 PDF will help students in understanding how much explanation is required for any particular question in board examination. In the exam, students must first check the marks allocated to every questions and then should answer it accordingly for better score. If there are questions which asked for 1 mark or 2 marks, then students don't need to give a substantial explanation in their board exams. But if a question is asked for 4 or 6 marks, then they need to describe it in detail for better score.
The NCERT Social Science For Class 10 Solutions will provide a better idea to all dear students regarding the answering process in CBSE Board Exam 2022-23. Also, it will help in improving their answer writing and presenting skills for board exams.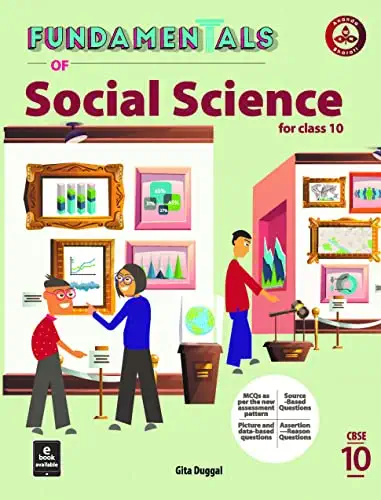 NCERT Social Science Class 10 Textbook PDF
In NCERT Class 10 Social Science, students have 4 books or Sections of Social Science Subject as are given below.
History – India and Contemporary World II
Geography – Contemporary India II
Political Science – Democratic Politics II
Economics – Understanding Economic Development
In this article I have provided the questions and answers to all these books separately in NCERT Solutions For Class 10 Social Science. These solutions are created by expert Teachers and are easy to understand for every students. All dear Students can access these solutions from the link provided.
If you are preparing any board examination or any other competitive examination, then all of you can visit at Maths And Physics With Pandey Sir.
Now, You Need To Contribute Just Only ₹ 49 For The Downloading And Access Of This Book. We Need Your Contribution For Providing Such A Good Books and Study Materials On This Website.
All Of You Can Pay ₹ 49 By Following Method and Confirm By SMS Or WhatsApp On 91-9229966717 With Your Name and Email ID.
1. Google Pay On 9229966717
2. BHIM UPI(manoj198702@oksbi)
3. Paytm On 9229966717
Given Below Are The CBSE Fundamentals Of Social Science For Class 10 PDF Chapter-Wise With Their Respective Download Links Containing Study Materials.
Fundamentals Of Social Science For Class 10 PDF Free Download
NCERT Class 10 Maths Book With Solution Links
NCERT Class 10 Maths Book PDF Free Download
NCERT Class 10 Maths Book Solution PDF Free Download
NCERT Class 10 Subject-Wise Best Study Materials
NCERT Class 10 Previous Year Solved Papers
Modern's ABC Plus Of Science Physics, Chemistry and Biology Book PDF Links
Modern's ABC Plus Of Science Physics Book PDF Free Download
Modern's ABC Plus Of Science Chemistry Book PDF Free Download