The Indian School Certificate(ISC) is an examination conducted by the Council for the Indian School Certificate Examinations for ISC Class 12 Physics. The Major subjects of examination include English as a compulsory subject and a list of elective subjects. The list of electives contains subjects like Geography, History, Sociology, Physics, Chemistry, Biology, Home Science, and many more subjects time to time.
The Indian School Certificate(ISC) is known to lay a lot of importance for literature and language in India, which helps to pursue a good career in the many like management, communication, marketing, accounting, etc. The curriculum of ISC is designed to improve oral and writing skills of students, along with in-depth learning of various concepts in all subjects, which focuses on the overall development of students for better opportunities.
This Post Contains ISC Class 12 Physics Semester 2 Sample Question Papers with solutions for session 2022. These ISC Class 12 Physics Sample Paper will help the students in getting good marks in Physics paper in Board exams. These Sample Paper has covered all the important topics and questions and the students can practice these questions for their board exam preparation.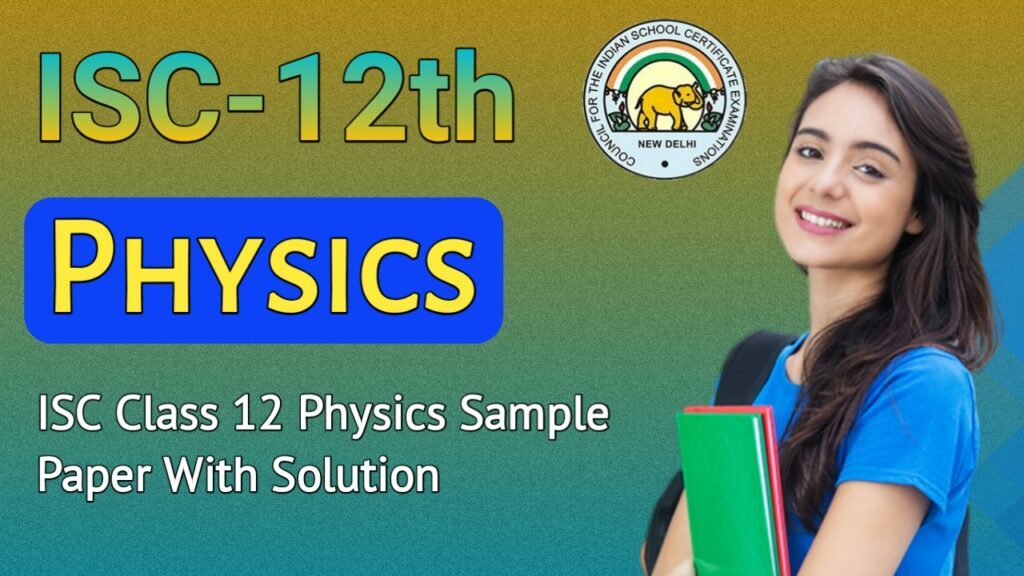 Read More: ISC Class 12th Other Subjects Study Materials For Board Exam
Mathematics | Physics | Chemistry | Biology | English | Computer Science
ISC Class 12 Physics Sample Paper 2022 in PDF download will be provided here. Semester 2 Sample Paper 2022 for ISC Class 12 have been released on the official ISC website also every year. Semester 2 Board Exam sample paper for ISC Class 12th Sem 2 2022 with a ISC marking scheme I will provide here. All Students will be a requirement to use these model papers in last moment for the better score in ISC board examinations 2022.
Best ISC Class 12 Physics Sample Paper 2022
Sample papers for ISC Class 12 Physics is there in the release by The Indian School Certificate(ISC) in January 2022. Semester 2 Board Exam 2022 sample paper reveal the format and type of questions will be asked in ISC board exams.
All sample papers have been marked according to the marking schemes released by the ISC board. Using these ISC Semester 2 Sample Papers 2022, all students would learn the answer hints to all questions in board exam. For high scoring the upcoming ISC Class 12 Physics board examinations, students must study these subjective-type sample papers for better understand the board exam paper pattern for session 2022-23.
How To Use ISC Class 12 Physics Model Papers
The ISC Board provides sample question papers for practice two to three months before the actual examination date every year for the students. All Students, teachers, and schools can study the actual pattern, framework, and all marking scheme of actual question papers which will be come in ISC board final examinations 2022.
It indicates how difficult the question papers will be and how much weight from each chapter will come in Board exam 2022. Additionally, it reveals how ISC board changes the number of questions in its board exams in any subject based on the design of question papers and question numbering in their final question papers.
How To Practice ISC Class 12 Physics Sample Papers
Almost all students usually avoid writing. Please do not take it for granted. Regularly practice more question papers in pen and paper format to become familiar with the good conventions. All of You will not only be able to assess your writing speed, but also you will be able to accelerate retention. The longer you write twice and thrice on your own, the easier it will be to recall the good answering in board exams 2022-23.
All Of You Can Download These ISC Class 12 Physics Sample Paper From The Given Links Provided Below.