JEE Mains 2022: Super 15 Mock Test Papers With Solution
In This Post I Have Provided JEE Mains Best 15 Mock Test Papers for session 2022. These JEE Mains 15 Mock Test Papers help all of you to assess your knowledge and analyze problem areas for further improvement and best preparation.
Key Features Of This Mock Test Papers
Each Mock Test Paper contains 3 Sections (Physics, Chemistry, and Maths) which are further divided into 2 Section.
Part-1 contains 20 multiple-choice questions.
Part-2 contains 5 numericals value type questions.
Answer keys along with solutions for all questions which are provided.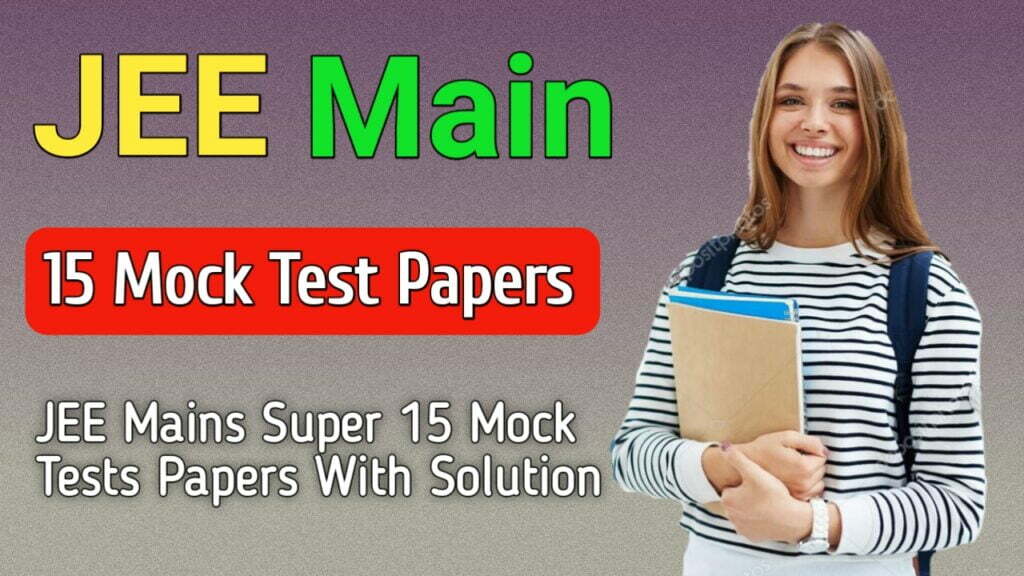 Also Read: JEE Main Physics Best Study Materials
Also Read: JEE Main Chemistry Best Study Materials
Also Read: JEE Main Maths Best Study Materials
About JEE Mains Exam 2022
JEE Mains exam is a multi-session exam and also computer based test which is conducted by the the authorised IITs colleges in India for the admission of the top institutes in the country such as the IITs.
In India JEE Mains exam was conducted in 13 languages across India such as English, Hindi, Marathi, odiya, Urdu, Tamil, Telugu, Malayalam, Assamese, Kannada and Bengali as per the education ministry of India.
The national testing agency (NTA) now has decided to conduct the JEE mains exam in this year in April and May only. That means all candidates will be get only 2 attempt to qualify the JEE mains exam 2022.
Last year all student got 4 attempts to qualify the JEE mains 2021, which is now reduced by the NTS and has now cut it down to qualify in only 2 attempts.
JEE Mains 2022 Date
NTA will be announce the actual exam dates for the JEE Mains on his official website. The actual exam date has been announced on the official website. All students need to note down actual date for the examination on jee mains official website.
JEE Mains Syllabus
JEE Mains paper 1 consists of mainly three subjects physics, chemistry and maths. For more about the JEE Mains syllabus you can visit on JEE mains official website www.jeemain.nta.nic.in. You can also visit on Maths and Physics With Pandey Sir website for more details.
Given Below Are The Mock Test Papers With Solution With Their Respective Download Links.
Mock Test Papers With Serial Number
Optional Mock Test Papers With Serial Number
JEE Main Mock Test Papers