JEE (Main and Advanced) Physical Chemistry Chapter-Wise Study Material
In This Post I Have Provided JEE Physical Chemistry Study Material which is the branch of chemistry with quite like mathematics and physics in developing underlying principles of chemistry for JEE students.
This branch of Chemistry observes and explains the physical and chemical properties of matter which is important topics for JEE. Problems of physical chemistry are slightly complex and thus require lots of practice for better score in JEE (Main and Advanced).
If you understand the concepts and topics of Physical Chemistry clearly, then things become easy for all my dear students. Our easy-to-understand Physical Chemistry Study Material will help to all of you. All of You can refer to our table section below where you can download Revision Notes of Physical Chemistry in PDF format.
Also Read
JEE Physics Best Study Materials PDF
JEE Chemistry Best Study Materials PDF
JEE Maths Best Study Materials PDF
Also Read
JEE Previous Year Solved Papers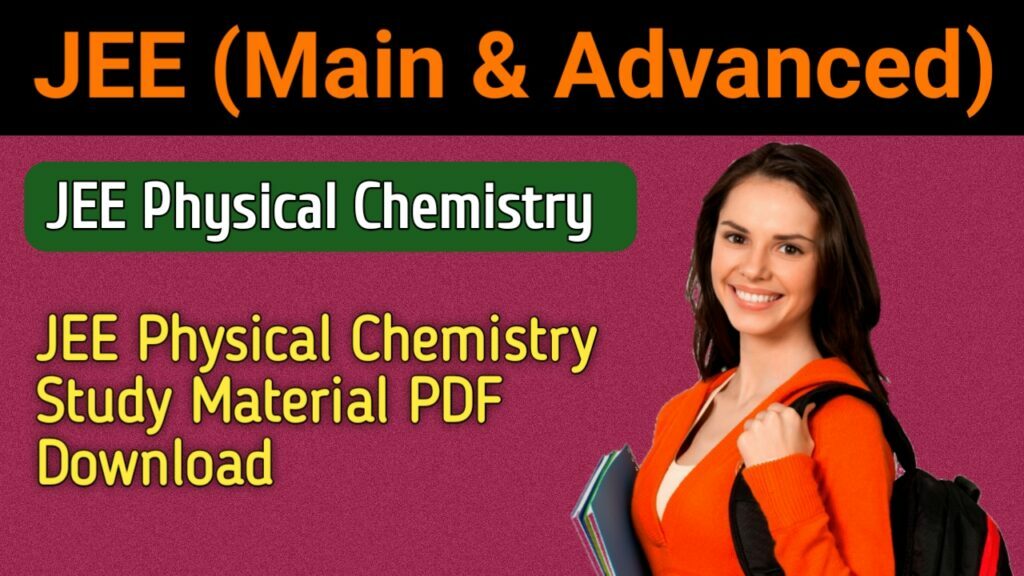 JEE Physical Chemistry Study Material 2022
JEE Aspirants can find the best study material for JEE Physical Chemistry 2022 preparation available here in PDF format.
There are several students who waste a lot of money on buying different types of books and they end up having a pile on their desk for NEET. If you are looking for JEE Physical Chemistry Study Material, then you can take the help of the Maths and Physics With Pandey Sir website which provides a lot of Free study materials for JEE.
The Maths and Physics With Pandey Sir teaching team has got the best teachers that will help the students to study JEE Physical Chemistry, Organic Chemistry for JEE, and Inorganic Chemistry for JEE in the best way. The faculties at Maths And Physics With Pandey Sir prepare the study material after having a thorough analysis of all the topics from all subjects.
How to Study Physical Chemistry for JEE
You need to have a good timetable along with good study materials. Also, make sure that you follow the timetable properly for study. You need to practice more and more in the best way to practice with the help of JEE previous year question paper and best study materials. You get to know your leads and your flaws with the help of sample paper and previous year solved question papers.
Most Important Chapters For JEE 2022 Physical Chemistry
All the topics and chapters of the chemistry section are important if you want to have an Good and amazing overall score in JEE exam. You need to attain command on all topics in physical chemistry. This article will help you to find out best topics from physical chemistry.
Given Below Are The JEE Physical Chemistry Chapters Name With Their Respective Download Links Containing Study Materials In PDF.
JEE Physical Chemistry Study Material PDF Download
NCERT Class 11 Physics Book PDF Free Download
Also Read
SL Arora Class 11 Physics Book PDF Free Download
All In One Arihant Class 11 Physics Book PDF Free Download
Arihant All In One Chemistry Class 11 Book PDF Free Download
Must Read
NCERT Class 11 Physics Notes Chapter-1(Physical World) PDF Free Download
NCERT Class 11 Physics Notes Chapter-2(Units and Measurement) PDF Free Download
NCERT Class 11 Physics Notes Chapter-3(Motion In A Straight Line) PDF Free Download