Download RS Aggarwal Maths Class 10 Book PDFs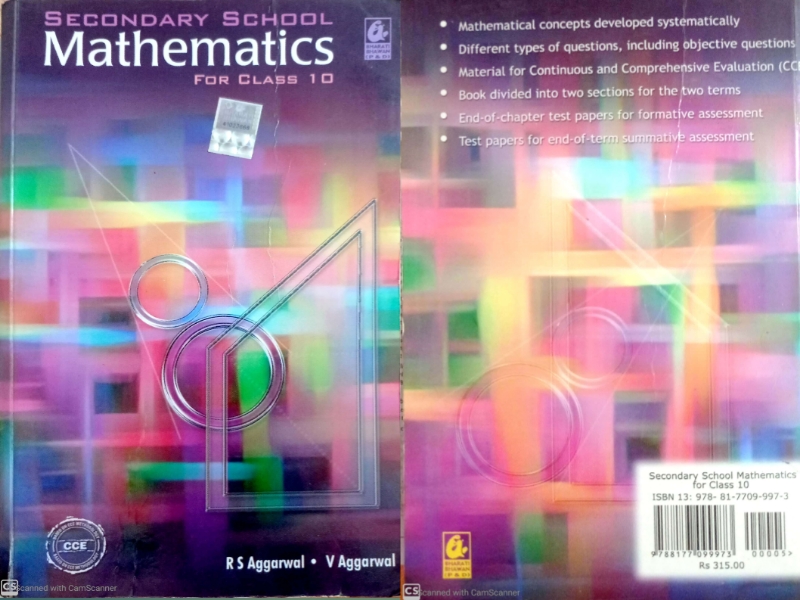 In this post I have provided RS Agrawal Class 10 Maths Book PDFs. This book is very important for board exams as well as competitive exams. There are many questions in board exam which are asked from this book. There are many questions which are quietly different from NCERT books. So it is important to all the student to practice these types of questions to get 100% in Board exams. There are many expert teachers who recommended this book for the preparation of class 10 maths board exam.
Also Read: Modern ABC Maths Class 10 Book PDFs Free Download
This article contains secondary School mathematics for class 10 chapter wise and topic wise book pdf with their respective download links containing study materials. Any student can easily download it by clicking on respective download links. At the end of each term, there is also summative assessment questions for practicing for the preparation of board exam.
Class 10 Mathematics RS Aggarwal Solutions PDF
You can visit our website for the solution of RS Aggarwal Class 10 Maths Book, Maths and Physics With Pandey Sir is a famous website which provides free study material for every class and for every subject. You can easily find it by going to the menu. This website also provide a lot of books which are very important for board exam as well as for competitive exams.
Also Read: Vidya Maths Book PDFs Free Download For Class 10
Preface
We feel proud to present this edition of the book. It is based on the new CBSE syllabus. Apart from the CBSE course, this book can be used as a textbook for the courses of those state boards which follow the CBSE syllabus. The book has been thoroughly revised and reset. A new set of questions based on CCE methodology has been added at the end of each chapter. It contains various types of questions to familiarize students with the system of continuous evaluation. Students are encouraged to assess themselves with the sample papers of Formative Assessment (unit test) in each chapter. The whole book has been divided into two sections, First Term and Second Term. At the end of each section, sample papers of Summative Assessment have been given. This book will also be of immense help to the students who wish to sit for the board exam 2024.
Also Read: Arihant Maths Solution For Class 10 PDF Free Download
Though revised and reset, it continues to have the qualities which made it so popular among teachers and students in the past. We have emphasized the theoretical as well as the numerical aspects of the mathematics course. The underlying concepts have been gradually and systematically developed. The exposition is simple, yet rigorous. The language is precise and simple. In each chapter, all the results and concepts of a particular topic have been put together. These are followed by a large number of solved examples. Quite a large number of problems have been given as exercises.
We are thankful to the editorial and production staff of Bharati Bhawan for doing such a good job. We also wish to thank all teachers and students
who sent suggestions for the improvement of the book. We hope that we shall continue to receive such invaluable feedback.

Now, You Need To Contribute Just Only ₹ 49 For The Downloading And Access Of This Book. We Need Your Contribution For Providing Such A Good Books and Study Materials On This Website.
All Of You Can Pay ₹ 49 By Following Method and Confirm By SMS Or WhatsApp On 91-9229966717 With Your Name and Email ID.
1. Google Pay On 9229966717
2. BHIM UPI(manoj198702@oksbi)
3. Paytm On 9229966717
You Can Also Scan Given QR Code For Donation
Given Below Are Secondary School Mathematics For Class 10th Book PDF With Their Respective Download Links.
https://mrmanojpandey.com