Aakash NEET Full Syllabus Test Series (FTS) With Solution For Session 2023-24
In this post I have provided Aakash NEET Full Syllabus Test Series (FST) with Solution for NEET exam. It is a targeted test series consisting of mock tests based on the actual NEET exam pattern. This Test series is very important for those student who are preparing for NEET 2023-24.
NEET is a Top Level entrance examination for admission in Medical colleges in India. NEET examination is conducted by National Testing Agency (NTA). It is a top level entrance exam to get admission in Medical colleges in India. Any student who want to take admission in top level medical colleges in India, then they have to qualify NEET examination conducted by NTA.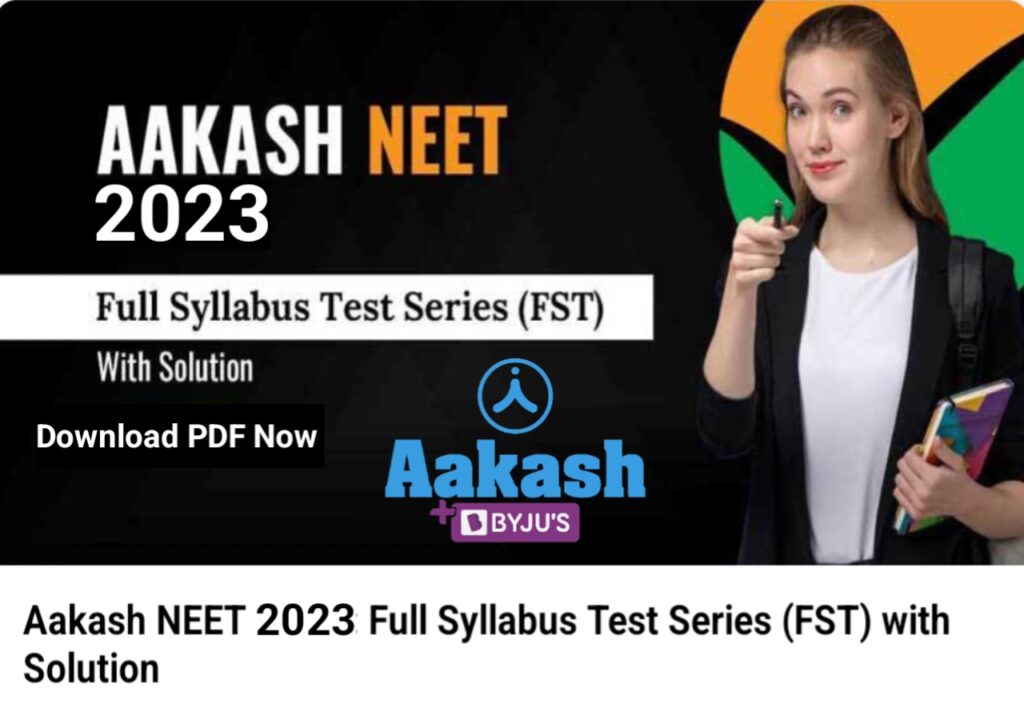 In NEET examination the question are asked from the four subjects Physics, Chemistry, Zoology and Botany. That is why any student who want to clear this exam, then they have to practice questions from all these four subjects. There are total 180 questions from each subject. Total 720 marks carry from all the subjects
After 12th, any student can prepare for NEET examination in India. All the questions came from the syllabus of class 11th and 12th, which are studies by the students. So, if any student want to qualify NEET examination, then they have to study in deep in all these four subjects from 11th and 12th. The NEET examinations also have negative marking that is why all the students to need clear more their concept while appearing in final exam.
Must Read
Objective Of Intensive Test Series Aakash 2023 PDF
To provide exact feel of NEET exam by providing the Question paper in line to NEET only
To provide a study mechanism to students by dividing the syllabus of every subject scientifically in numerous part syllabus tests and then the series of mock tests of full syllabus
To provide a final competitive environment amongst students across the country before NEET 2023
Now, You Need To Contribute Just Only ₹ 49 For The Downloading And Access Of This Book. We Need Your Contribution For Providing Such A Good Books and Study Materials On This Website.
All Of You Can Pay ₹ 49 By Following Method and Confirm By SMS Or WhatsApp On 91-9229966717 With Your Name and Email ID.
1. Google Pay On 9229966717
2. BHIM UPI(manoj198702@oksbi)
3. Paytm On 9229966717
Given Below Are Aakash Intensive Test Series 2023 PDF With Respective Download Links.
intensive test series aakash 2023 pdf
Educational Qualifications and Criteria
Any student who want to appear in NEET examination, then they have to clear their class 12th board examination atleast aggregate 50% marks. This criteria is for general category students.
Age Criteria And Subjects Pattern
Any student who want to take NEET entrance examination, then they have to complete at least 17 year of age for applying in NEET-UG and upper age limit is 25 years for general students and also there are 5 year relaxation for ST, SC and OBC students.
NEET Best Study Material and Test Series
Any students who want to take entrance examination for NEET, then they have to need to practice more and more. That is why only class 11th and 12th NCERT books are not sufficient, So you have to need some special study material and sample question papers for better preparation.
NCERT official website also provide all the information and relevant study materials for the NEET. Our website Maths And Physics With Pandey Sir also provide important notes and study material with sample question papers for better preparation for your NEET Entrance Examination.
NCERT Class 11 Physics Book PDF Free Download
Also Read
SL Arora Class 11 Physics Book PDF Free Download
All In One Arihant Class 11 Physics Book PDF Free Download
Modern's ABC Books Links For Class 12
Must Read