NEET 2023 Mock Tests: Aakash Test Series For NEET- PDF Free Download
Aakash Intensive (PST) Test Series for NEET is available here in PDF form. It is a targeted test series consisting of mock tests based on the actual pattern of the comming NEET exam. This series test papers not only tests your knowledge and depth of preparation of your subjects but also your ability in terms of time management, speed and accuracy, and presence of mind required to crack NEET exam 2023.
This test series is specially designed by Aakash BYJU's for best preparation for NEET exam. At Maths And Physics With Pandey Sir website you can also access various study materials for NEET like previous year papers, sample papers, Mock Test Papers along with many more books which are important for NEET exam.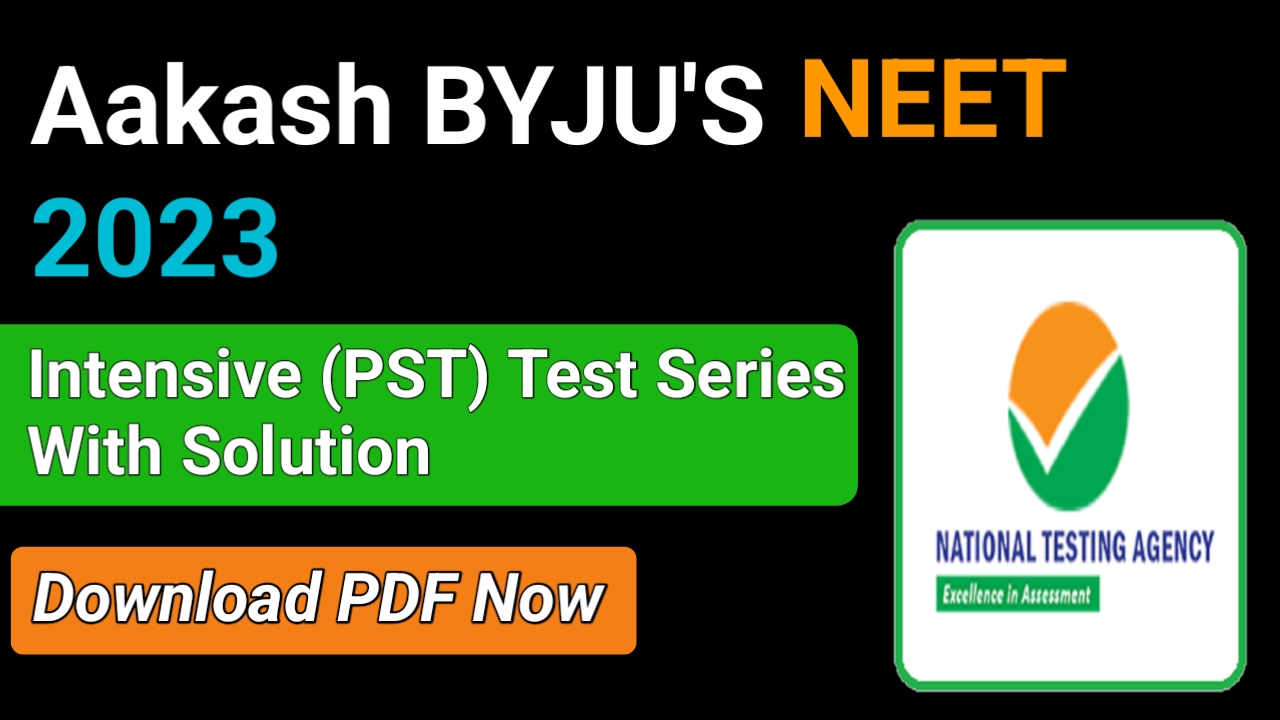 Aakash Byju's NEET Mock Test- PDF
For students who are preparing for the National Eligibility cum Entrance Test (NEET), it is very important to keep their preparation on proper way. By Solving the NEET mock tests it can be really very helpful for aspirants in understanding the real exam feel, pattern, and difficulty level of NEET exam. As the NEET experts believe, Preparing for NEET 2023 by using the mock test is a best strategy to crack NEET exam for comming session.
NEET Mock tests will always help you understand various parameters of the actual NEET exam such as – difficulty level, syllabus, time management, nature of concepts, etc. Mock tests series for NEET exam are structured according to the actual NEET exam pattern with all questions only from the lettest syllabus released by the NTA (National testing agency).
Must Read
Aakash NEET Booster Test Series for NEET 2023
Aakash Biju's test series cover the whole lettest NEET syllabus in depth including all subjects like physics, chemistry zoology and botany. this test series had been designed including series of mock tests and questions banks with solution on the basis of lettest exam pattern.
This will help appearnts to get familiar with the NEET exam pattern. This Aakash test series is consist total 4 tests including all four subjects which are included in lettest NEET exam syllabus.
Now, You Need To Contribute Just Only ₹ 49 For The Downloading And Access Of This Book. We Need Your Contribution For Providing Such A Good Books and Study Materials On This Website.
All Of You Can Pay ₹ 49 By Following Method and Confirm By SMS Or WhatsApp On 91-9229966717 With Your Name and Email ID.
1. Google Pay On 9229966717
2. BHIM UPI(manoj198702@oksbi)
3. Paytm On 9229966717
Given Below Are Aakash NEET Intensive (PST) Test Series With Their Respective Download Links
Aakash Intensive PST Test
NCERT Class 11 Physics Book PDF Free Download
Also Read
SL Arora Class 11 Physics Book PDF Free Download
All In One Arihant Class 11 Physics Book PDF Free Download
Modern's ABC Books Links For Class 12
Must Read