This post contains CBSE Class 11 Business Studies chapter wise revision notes in PDF form. This notes are very important for those student who are preparing for their class 11 business studies subject examination 2023-24.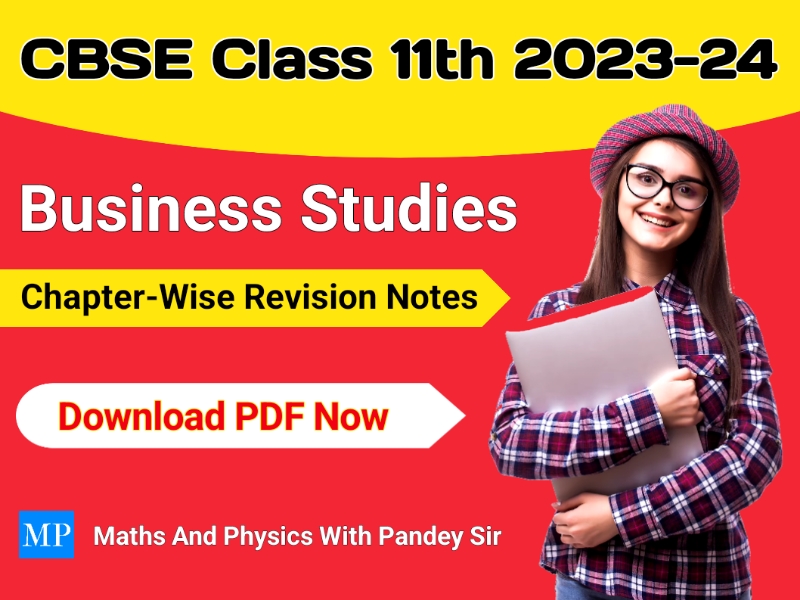 To help students out, Maths And Physics With Pandey Sir website have brought an important study material for CBSE Class 11 Business Studies. All these study materials have been prepared according to the new updated CBSE Syllabus 2023-24.
Here, we have provided chapter-wise Class 11 Business Studies Revision Notes in PDF format which are easily downloadable. These notes will help Business Studies class 11 students to understand the concepts in brief and easily. They can also used as last time revision notes during all internal and annual examination 2023-24.
Given Below Are CBSE Business Studies Class 11 Chapter Wise Revision Notes With Their Respective Download Links.
https://mrmanojpandey.com
NCERT Class 11 Physics Book PDF Free Download
Also Read
SL Arora Class 11 Physics Book PDF Free Download
All In One Arihant Class 11 Physics Book PDF Free Download
NCERT Class 11 Physics Hand Written Notes Chapter-Wise
Modern ABC Maths Part-1 PDF Download
Modern ABC Maths Part-2 PDF Download
Modern ABC Physics Part-1 PDF Download
Modern ABC Physics Part-2 PDF Download
Modern ABC Chemistry Part-1 PDF Download
Modern ABC Chemistry Part-2 PDF Download
Modern ABC Biology Part-1 PDF Download