CBSE Class 12 Chemistry 2022-23 Chapter-Wise Latest Full Study Guide With Solution
In This Post I Have Provided CBSE 12th Chemistry 2023 Chapter-Wise Full Study Guide With Solution. This article contains the latest updated 2022-23 edition is a self-study guide that has been carefully and consciously revised for providing proper explanation and also guidance with strictly following the latest CBSE syllabus prescribed by the CBSE board.
This article will guide to all the students thoroughly to prepare for the Board Exam 2022-23 in the most effective way and help to score high grades in their board examination.Highlights and Features
Highlights and Features Of This Post
Complete Theory & Practice Questions for preparation of Board Exam For Class 12 Chemistry
Short & Long Answer Type Questions Chapter-Wise For Board Exam 2023
New Pattern Objective Questions Includes
Chapter Practice for Quick Revision for each Chapters
A/R & Case-Based Questions for each chapters
Value-Based & Hots Question For Board Exam
Sample Question Paper (Solved and Unsolved)
This post contains all the materials required for Learning, Understanding, Practice & Assessment and will surely guide the students on the path to success for their board examination. So this post is a complete full study guide with solutions for dear students.
Importance Of NCERT Class 12 Chemistry Revision Notes and Best Study Materials
These questions with solutions are very helpful to the students for the good preparation for their CBSE Class 12 Chemistry Board examinations. So, every student must try to study in very good manner with the help of these study materials and also try to solve given questions with the help of given Solutions and Answers.
These CBSE Class 12 Chemistry study materials and revision notes are prepared by our expert team which are on the basis of latest CBSE Class 12 Chemistry exam pattern for session 2022-23. These notes are very helpful for the preparing for their final Board examinations 2022-23.
If you are preparing for any other Board examinations or any competitive examinations like JEE, NEET, GATE and NTSE etc, then this website is very helpful to the student.
Maths And Physics With Pandey Sir is a very dedicated website for the students which always provide a good class notes, revision notes, important questions with solution/answer, case based questions, sample papers etc for their students, so that they can prepared for their Board examinations or any other competitive examination.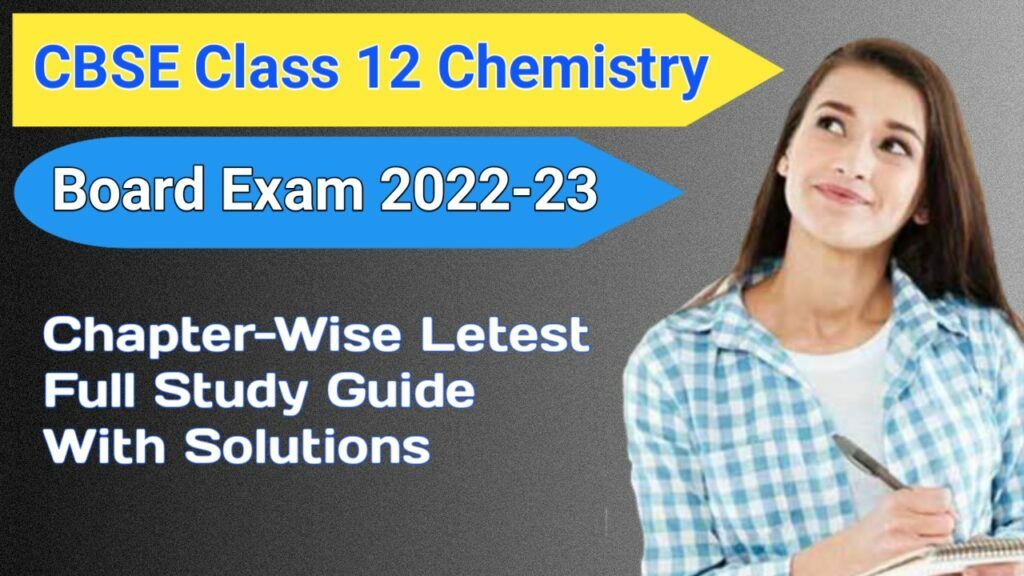 Given Below Are The CBSE 12th Chemistry 2023 Chapter-Wise Full Study Guide With Solution With Their Respective Download Links Containing Study Materials.
Best CBSE Class 12 Chemistry 2023 Full Study Guide With Solutions
CBSE Class 12 Chemistry Sample Papers With Solutions
Best CBSE Class 12 Chemistry 2023 Full Study Guide With Solutions
Modern's ABC Books Links For Class 12
Modern's ABC Physics Class 12 PDF Free Download
Modern's ABC Chemistry Part-I PDF Free Download
Modern's ABC Chemistry Part-II PDF Free Download
Must Read
NCERT Class 12 Physics Book PDF Free Download
SL Arora Class 12 Physics Book PDF Free Download
All In One Arihant Class 12 Physics Book PDF Free Download
All In One Chemistry Class 12 Book PDF Free Download
NCERT Class 12 Physics Notes Links Chapter-Wise
NCERT Class 12 Physics Chapter-1 (Electric Charges And Fields) Notes
NCERT Class 12 Physics Chapter-2 (Electrostatic Potential And Capacitance) Notes
NCERT Class 12 Physics Chapter-3 (Current Electricity) Notes
NCERT Class 12 Physics Chapter-4 (Moving Charges And Magnetism) Notes
NCERT Class 12 Physics Chapter-5 (Magnetism and Matter) Notes
NCERT Class 12 Physics Chapter-6 (Electromagnetic Induction) Notes
NCERT Class 12 Physics Chapter-7 (Alternating Current) Notes
NCERT Class 12 Physics Chapter-8 (Electromagnetic Waves) Notes
NCERT Class 12 Physics Chapter-9 (Ray Optics and Optical Instruments) Notes
NCERT Class 12 Physics Chapter-10 (Wave Optics) Notes
NCERT Class 12 Physics Chapter-11 (Dual Nature of Radiation) Notes
NCERT Class 12 Physics Chapter-12 (Atoms) Notes
NCERT Class 12 Physics Chapter-13 (Nuclei) Notes
NCERT Class 12 Physics Chapter-14 (Semiconductor and Electronic Devices) Notes