JEE Mains Physics Problem Based Important Question With Solution In PDF
In This Post I Have Provided Physics Problem Based Important Questions With Solutions/Answer. The content of This post has a very simple objective type questions- it will test and mature all of you on all the necessary parameters to excel in JEE exam 2022.
This Post Contains Volumes 1 and 2 physics and also each chapter of the Topic is divided into three sections – Levels 1, 2 and 3-increasing difficulty order for students.
JEE Main Physics Most Important Topics Questions With Solutions
JEE Main is one of the most important examinations in India. JEE Main is conducted by National Testing Agency(NTA) to assess student's calibre for pursuing admission in engineering courses in some of the best technical institutes and colleges in the country. In order to crack an entrance exam like JEE, NEET, smart preparation and dedication are required to the all the dear students.
JEE Main and Advanced Paper includes three subjects like Physics, Chemistry and Mathematics. JEE Main Physics is the most challenging subject for a lot of students because there are many conceptual question which always confused to the students. Many students find it difficult to score high marks in JEE Main Physics Paper. In order to help all of you, we provide JEE-level Physics questions with solutions. We provide all of you with a repository of important questions of JEE Main Physics.
So, Study all the Most important questions and answers with solutions of each chapter of Physics here with us, under our guidance and best experienced teachers. Here, we are providing a free JEE Physics questions PDF at the end of each chapter which the students can study download.
All Of You Can Also Read
JEE Physics Best Study Materials PDF
JEE Chemistry Best Study Materials PDF
JEE Maths Best Study Materials PDF
Also Read
JEE Previous Year Solved Papers
Level Wise Questions With Solutions
LEVEL-1 – This section will test you on all basic and fundamentals of the chapter. Problems are not very rigorous though they may be very conceptual questions.
LEVEL-2 – This section will develop all necessary skills required to score a high rank in JEE exam for students. Few problems in this section may appear lengthy but they are the ones which test your confidence and patience more and more. Don't be scared of them and do hard work for solving them.
LEVEL-3 – This section contains Important problems that may require exceptional reasoning Knowledge and skill or mathematical ability test for students.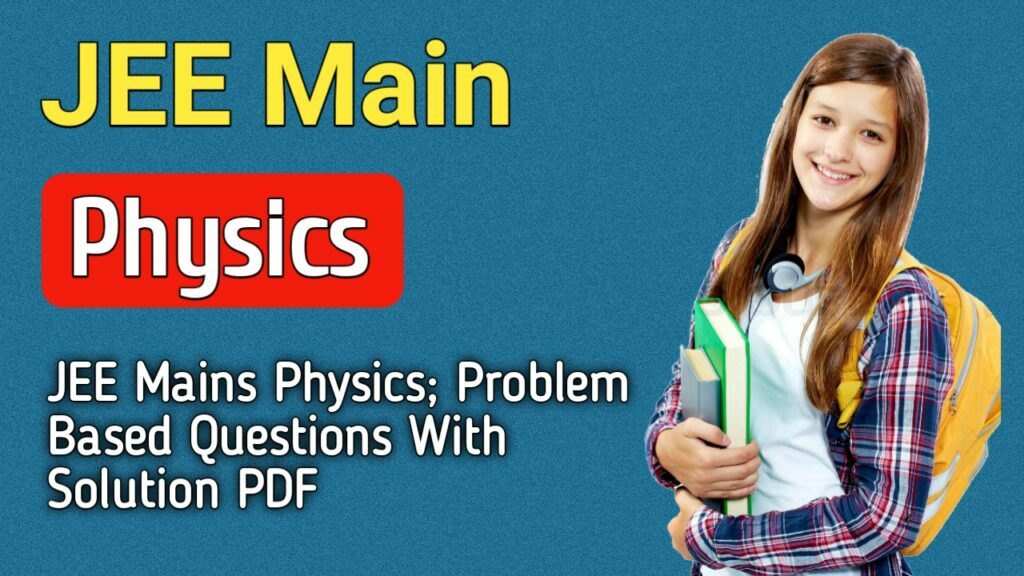 Given Below Are The JEE Main Physics Volume-1 and Volume-2 Study Materials With Their Respective Download Links Containing Study Materials.
Problems in Physics Volume-1
JEE Mains Physics Problem Based Questions With Solution PDF
Problems in Physics Volume-2
JEE Mains Physics Problem Based Questions With Solution PDF
NCERT Class 11 Physics Book PDF Free Download
Also Read
SL Arora Class 11 Physics Book PDF Free Download
All In One Arihant Class 11 Physics Book PDF Free Download
Must Read
NCERT Class 11 Physics Notes Chapter-1(Physical World) PDF Free Download
NCERT Class 11 Physics Notes Chapter-2(Units and Measurement) PDF Free Download
NCERT Class 11 Physics Notes Chapter-3(Motion In A Straight Line) PDF Free Download